We zijn weer geopend voor duo/groepsvioolles op onze lokatie of aan huis.
You can of course also still sign up for our Online live violin lesson via video calling.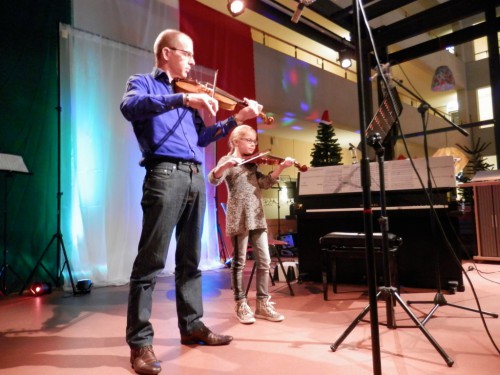 You can next individual lessons also opt for duo / group lessons violin and viola.
Group lessons are ideal for parent / child, for brothers / sisters and boyfriends / girlfriends.
Learning to play the violin together is fun: you can act out each other or act for the group or work in groups.
These lessons are also very affordable since the lesson time is divided between several people.
These lessons are possible for anyone who wants to start at the same time or if you are at about the same level.
Much attention will be paid to ensemble play.
During the duo / group violin lessons, children can easily get acquainted with the instrument.
In these lessons the emphasis is onimitate: to sing, Valves, strumming and ironing.
The notation is not discussed until later, but after a few lessons of sheet music is played via an adapted method.
Would you like to get acquainted with the instrument but do you find it more fun in a group?? Then these lessons are definitely for you.
For more information about violin lesson or viola lesson see:
Violin lessons | Viola lessons