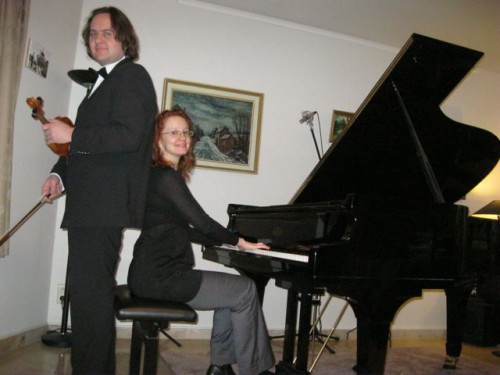 Violin and Piano
Duo Spirito Crea Maastricht, provides performances and occasional musicviolin andpiano inNetherlands, Belgium andGermany, and in a radius of100 km aroundMaastricht.
Duo Spirito Crea, consisting of violinist Dennis Wijntjens and pianist Vera Melnichenko, musical partners for a long time, making it perfect attuned.
Despite our classical training, we feel at home in Jazz, Rock, Pop en Show repertoire.
We have adigital piano we can take with us.
Adigital piano orstage piano is sonically similar to aGrand Piano andis not a keyboard.
We can amplify thedigital piano and the acousticviolin a bit..
It is of course also possible to play on a presentpiano, Grand Piano or in church ona church organ ,, provided that they are ingood condition andtuned properly.
Forsmall rooms inside we can (if necessary) use a small amplifier.
Forbigger rooms and foroutside we make use of asound system (PA), consisting of two speakers on a stand and a bass speaker. We need aminimum setup time ,90 minutes.
You can book us for the following occasions:
Chamber Music Concerts, Receptions and mood music, (wedding)miss and Ceremonies, Accompaniments and help out, Studio work and sound recordings, Theme performances.
---
Photo albums:
Below are some photo albums of Duo Spirito Crea. Click on the photo for an impression.
---
Program proposalsviolin and piano can be booked for:
1 hour, 2 hour or3 hour, unless otherwise stated.
See also ourexample playlists with possible pieces.
You can alsoreference tones listen to.
Some program proposalsViolin and Piano are supplemented or alternated with aViolin solo live with backing-tracks.
This is alive violin solowith aaccompaniment onorchestra band (combo, band, orchestra).
We also act asMusicato, this is adazzling show with classical and contemporary live violin and piano music supported withvideo and images on a largeprojection screen.
Do you want to be informed about what's going on with us, check out our Facebook-page.
Read the experiences of visitors to our performances below.