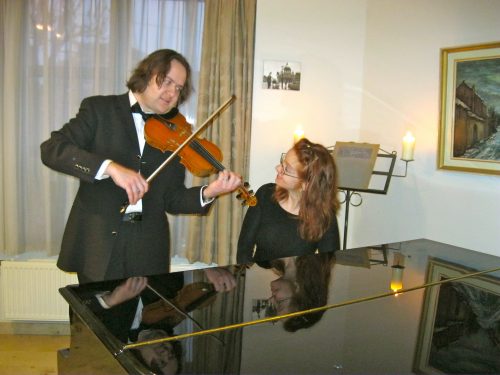 Live background music Violin and / or Piano
You want your guestsattractive entertain yourreception, diner, exhibition, conference, meeting etc.. then this program proposal is probably something for you. Or maybe you want your beloved partner, friend(in) or surprise friends with live music during aspecial occasion?
A lovely room and good food of course is fine, but makesatmospheric music not even more special? And if you can occasionally this music too (style)dancing?
This program proposal consists oflive background and is suitable forparty / meeting rooms, restaurants or just to youat home.
It includes a mix of different styles of music to create a fun atmosphere during family or business dinner or reception.
Usrepertoire is a mix of styles (light)-from classical, pop, jazz, film, musical.
We have adigital piano we can take with us.
Adigital piano orstage piano is sonically similar to aGrand Piano andis not a keyboard.
It is of course also possible to play on a presentpiano orGrand Piano ,, provided that they are ingood condition andtuned properly.
Forsmall rooms inside we can (if necessary) use a small amplifier.
Forbigger rooms and foroutside we make use of asound system (PA), consisting of two speakers on a stand and a bass speaker. We need aminimum setup time ,45 minutes.
Check out theShow set to music, a visual music journey through time.
Here, violin and pianopracticing live combined withvideo and images onprojection screen.
Viewexample playlists with possible pieces, There you can also thatreference tones listen to.
Please choose the desiredoccupation For more details about sound reinforcement the like.
---
Photo albums:
Hieronder staan wat fotoalbums van enkele recepties. Click on the photo for an impression.
---
Possible occupancy: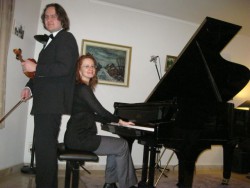 Our Duo Spirito Crea enjoy providing performances, violin and piano. We have a digital piano and we can amplify the acoustic violin a bit More..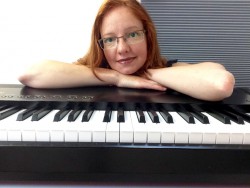 Rent Pianist Vera Melnichenko in Maastricht for party, (home)concert, chamber music, masses and ceremonies, studio work, solo play and choir accompaniments More..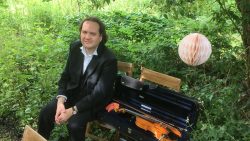 Rent Violinist Dennis Wijntjens from Maastricht for your party, (home)concert, masses and ceremonies, orchestra work (help out), solo play, chamber music, studiowork and choir accompaniments More..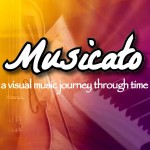 Musicato is a dazzling show with classical and contemporary live music with video. Violin and piano are supported by atmospheric images on a large projection screen. More..
---