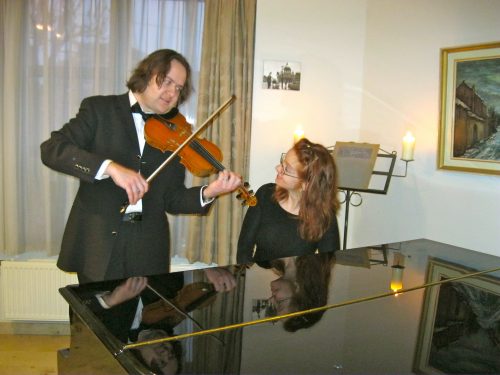 Live background music Violin and / or Piano
You want your guests attractive entertain your reception, diner, exhibition, conference, meeting etc.. then this program proposal is probably something for you. Or maybe you want your beloved partner, friend(in) or surprise friends with live music during a special occasion?
A lovely room and good food of course is fine, but makes atmospheric music not even more special? And if you can occasionally this music too (style)dancing?
This program proposal consists of live background and is suitable for party / meeting rooms, restaurants or just to you at home.
It includes a mix of different styles of music to create a fun atmosphere during family or business dinner or reception.
Us repertoire is a mix of styles (light)-from classical, pop, jazz, film, musical.
We have a digital piano we can take with us.
A digital piano or stage piano is sonically similar to a Grand Piano and is not a keyboard.
It is of course also possible to play on a present piano or Grand Piano ,, provided that they are in good condition and tuned properly.
For small rooms inside we can (if necessary) use a small amplifier.
For bigger rooms and for outside we make use of a sound system (PA), consisting of two speakers on a stand and a bass speaker. We need a minimum setup time , 45 minutes.
Check out the Show set to music, a visual music journey through time.
Here, violin and piano practicing live combined with video and images on projection screen.
View example playlists with possible pieces, There you can also that reference tones listen to.
Please choose the desired occupation For more details about sound reinforcement the like.
---
Possible occupancy: