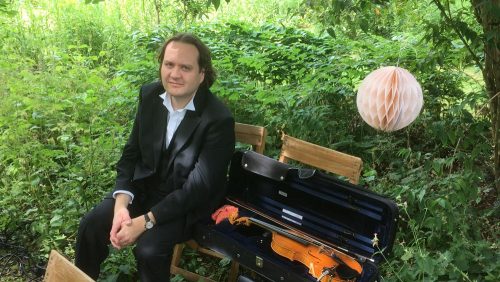 Violinist – Dennis Wijntjens
RentViolinist Dennis Wijntjens Maastricht for yourfeast, orchestra work (help out), solo play, chamber music, kerkmissen, studio work andchoral accompaniment.
Dennis is also working withDuo Spirito Crea, Violin and Piano in te huren.
Program proposalsviolin can be booked for:
1 hour or2 hour
For thegrace of yourfeast I will useViolin solo live with backing-tracks.
This is alive violin solo with aaccompaniment onorchestra band (combo, band, orchestra).
Personally I think it fit better with myrepertoire if something of aaccompaniment to sit, for example. piano of backing op orkestband.
You can go toCompare Occupations hear how the same piece soundsunaccompanied, withpiano accompaniment or with accompaniment(backing) on tape.
Theviolin- in pianopartij were anticipated by us in ourhome studio.
You can choose from the followingprogram proposals forviolin:
Receptions and mood music, (wedding)masses and ceremonies, Accompaniments and help out, Studio work and sound recordings, Theme performances.
See also ourexample playlists with possible pieces.
You can alsoreference tones listen to.
---
Photo albums:
Below are some photo albums of Violin solo. Click on the photo for an impression.
---
Do you have songs you want to hear absolutely, let us knowduring your booking and if possible I will include them in my program.
I use aacoustic violin I possibly. shall. with just one pickup (microphone). For thePlay of thebacking op orkestband I use a smallamplifier.
Forbigger rooms and foroutside I have access to asound system (PA), consisting of two speakers on a stand and a bass speaker. We need aminimum setup time ,20 minutesforViolin solo live with backing-tracks.
Dennis is also working withDuo Spirito Crea, Violin and Piano in te huren.
Check out the experiences of visitors to our performances.