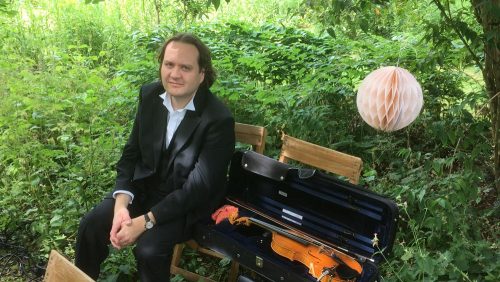 Introduction:
Hello, I am Dennis Wijntjens, since 1999 graduate violist privately viooldocent.
Dennis ismarried withVera (for ourpianist) and together they have twosons, Vadim (2011) en Boris (2012).
Asperformer I play regularly withDuo Spirito Crea (violin and piano) on several occasions.
I also play project moderate in orchestras and ensembles.
I o.a. played in theCor en Co-orchestra o.l.v. de pianistCor Bakker, o.a. withLionel Richie, UB40, Al Jarreau
(TV recordings for the TROS). Below is my biography.
---
The very beginning:
Dennis L.J.B. Wijntjens was in1976 born inGeleen, Netherlands and grew up inMaastricht.
Dennis got in1984, his8you are a year of life, his first violin lessons fromPaul Aerts (Belgium) inMaastricht.
From1989 to1991 he was alsoprivéles for violin and music theory, aspreparation hisconservatory study.
---
Training:
Dennis followed theHAVO training ,1989–1992 the formerUrban Scholengemeenschap ,Maastricht.
In1991 He was on his 15th, given his talent and young age, welcome till thetraining with yourConservatory, Hogeschool Maastricht with a cello teacherNilla Pierrou (Sweden).
In1992 he waswelcome till theHACO training (CHALLENGE) of the formerJeanne d'Arc College ,Maastricht, on aHAVO–Conservatory training in association with theMaastricht.
Injuni 1994 he won therehigh school diploma.
---
Vocational training:
In1995 Dennis starts atfirst year training
Teaching Musician Violin, from classical, also in theConservatorium Maastrichtwith a cello teacherNilla Pierrou.
During his conservatory studies there was muchmusicianship at variousensemblesandorchestras, o.a. At theLimburgs Baroque Consort,
theCountry Graafs Symphony Orchestra, Music Meuse and theKerkraads Symphony Orchestra.
There were also a year during the summer holidaysmasterclasses followed, o.a. inGermany andBelgium forNilla Pierrou, André Gertler,
Adam Korniszewsky and atSherban Lupu (VS) inPoland.
Injuli 1999 Dennis earned his teaching degree successfully Violin diploma.
---
Practical experience after graduation:
After hisgraduation Dennis has several yearsprivélessen followed by several teachersBelgium andGermany. Also, there ismusicianship at variousensembles andorchestras, o.a. in the aforementioned, diverseprojektmatigeand atArkansas Symphony Orchestra.
In2000 was Dennis optelevision can be seen in theColor & Co Orchestra conducted. de pianistCor Bakker. Hier begeleidde hij o.a.Lionel Richie, UB40, AL Jarreau from the orchestra, a very nice experience.
In2000 Dennis issoloist the violin concerto a minor inJ.S. Bach withMusic Meuse conducted.
From2001 Dennis plays inAntwerp Accompaniment Orchestra, annuallyopera / operetta AssociationsWOK Weert, Sing Kerkrade andGOV Goes guides.
Er wordt o.a.chamber music played, o.a. pianist putsVera Melnichenko (are nowadayswoman), mood music in adding lustercelebrate and music bymarriages andfunerals.
Also, there are from2004 regularlystudio recordings made for the Belgian composer
Wim Hautekiet. InJanuary 2008 this was aCD from: Wim Hautekiet – Renaissance in Fives.
Dennis has for several years as a violin teacherreplace at variousmusic in the Netherlands (limburg).
Dennis also beganconstruct of aown practice, givingviolin inMaastricht e.o. This he did with so manyenthusiasm, motivation andfun, that thedream of its ownprofessional teaching practice waxborn!
In2003 he is likesole proprietorship professional begun givingvioollessen,
mainlyon location.
Inaugustus 2006 was purified byVera andDennis the currentDutch company
"Wijntjens – Violin and Piano" established.
---
From the Netherlands to Belgium (and always return):
In2002 properlyVera andDennis moved toBelgium, townRiemst, not too far over theborder of Maastricht. In thesecountry area is made toyour heart's content musicianship.
In2003 are Vera and Dennismarried, inMaastricht.
In2004 was againmoved, Now the municipalityLanaken near the villageKesselt, yetpoet forMaastricht. Here we have lived with pleasure, but after a while we found out that living and working in different countries is not so convenient if you're a small business owner.
In2011 we move back to the Netherlands and finally back toMaastricht (current address).
We are not now "grensgeval" more of theEuropean Union, we work and live in one country,
what makes it a little easier.
Moreover, we are nowcenters, which we and our customers can reach us easily.
De band metMaastricht andNetherlands is thereforeremained and will also alwaysstay. "Treat echte Mestreechteneer" so.
---
Current activities:
Inaugustus 2006 was purified byVera andDennis theDutch company"Wijntjens – Piano lessons and violin lessons" established, with thepurpose theirappeal andpassion, thegiving violin- andpianolessen and themusicianship jointly expanding.
Mycurrent work include givingviolin by all means, both ourleslokatie, on location asonline live video calls, and themusicianship o.a. inorchestras andensembles, chamber music, mood music andstudio recordings.
Further hears some thereentrepreneurship, administration, bookkeeping and thewebdesign for.
Do you wantthe ,motivated, expert, patient andenthusiastic teachers, then chooseplayed and.
Also formood music, studio recordings andmusical you can reachplayed and justly.
---
Photo albums:
Hieronder staan wat fotoalbums van Dennis op de viool. Click on the photo for an impression.
Dennis speelt ook samen in Duo Spirito Crea.
---