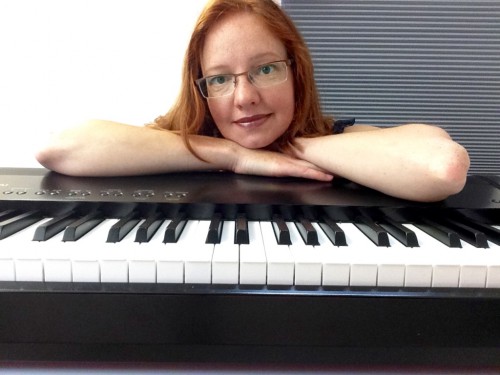 Introduction:
Vera Melnichenko is a graduate of both theConservatory of theHogeschool Maastricht (2003) as of to theConservatory ,Saratov (1999).
Vera has over30 years experience in giving piano lessons to all ages.
During herstudy ,1998–2002 and from2011 Vera lives inMaastricht, Netherlands.
From2002-2010 She lived inBelgium, first in townRiemst, Then in the municipalityLanaken.
Vera marriedDennis (for ourviolist) and together they have twosons, Vadim (2011) en Boris (2012).
Veramastered theDutch language, she has graduated in2002 the
Staatsexamen ofNederlands als tweede taal, programma II (NT2) ..
---
The very beginning:
Vera Alexandrovna Melnichenko was in1975 born inVladivostok inRussia and grew up inPetropavlovsk-Kamtchatsky inKamchatka, also inRussia.
Vera has since1999 graduatepianist andPrivate pianodocente inNetherlandsandBelgium.
---
Training:
Injuni 1990 Vera graduated at themusic ,Petropavlovsk-Kamtchatsky (Russia).
From1990–1994 followed Vera in theMusic College ,Petropavlovsk-Kamtchatsky trainingTeaching and performing musician Piano. Diploma with distinction earned injuni 1994.
In1994 Vera toSaratov (Russia) moved to study at theConservatory ,Saratov.
---
Vocational training:
From1994–1999 Vera studied at theConservatory ,Saratov (Russia) training: Performing Musician Piano, Co-tutoring, Docerend Musicus Piano andChamber music. Got my degree injuni 1999.
In1998 Vera moved toMaastricht (Netherlands) for aFurther Studyto theConservatory ,Maastricht.
From1998–2001 Vera studied at theConservatory, Hogeschool Maastricht training: Performing Musician Piano by professorAvi Schonfeld. Got my degree injuni 2001.
Between1999–2000 and2001–2002 Vera also studied atLeeuwenborgh Education Maastricht for the courseNederlands als tweede taal, program 2 (NT2).
DiplomaState examination achieved inaugustus 2002.
From2001–2003 she studied at theConservatory, South Dutch School of Music
inMaastricht thesecond phase training Piano Performance, Classical Music, Master's Degree (Performing Musician Piano) also by professorAvi Schonfeld.
Graduated in June 2003.
---
Practical Experience:
From1992–1994: stage at themusic inPetropavlovsk-Kamtchatsky(Russia)
From1997–1998: co-tutoring on themusic inSaratov (Russia) Alsosolo performances andchamber music inPetropavlovsk andSaratov (Russia)
From1999 staying in VeraMaastricht, Netherlands and she performs regularly.Performances solo andchamber music, o.a. Sunday Afternoon ConcertsVrijthof Theatre andCentre Ceramique, Maastricht
2001: Participation in theZeelenberg Solisten contest "Talent in Ontwikkeling" inDelft.
It was also made this a CD recording.
Mood Music oncelebrate, weddings, company presentations, solo andchamber music.
From2001 Vera startedconstruct of its ownpianolespraktijk inMaastricht.
Inaugustus 2006 was purified byDennis andVera the currentDutch company "Wijntjens – Violin and Piano" established.
From2007 arestudio recordings made for the Belgian composerWim Hautekiet. InJanuary 2008 this came from the CD: Wim Hautekiet – Renaissance in Fives.
---
Current activities:
Inaugustus 2006 was purified byVera andDennis the currentDutch company "Wijntjens – Violin and Piano" established, with the aim of theirappealandpassion, givingviolin- andpianolessen and themake music togetherexpand.
Mycurrent work include givingpiano by all means, both ourleslokatie, on location asonline live video calls, and themusicianship, o.a. inchamber music, choral accompaniments, mood music andstudio recordings.
Further hears some thereentrepreneurship andadministration for.
Do you wantthe ,motivated, expert, patient andenthusiastic teachers, then chooseplayed and.
Also formood music, studio recordings andmusical you can reachplayed and justly.
---
Photo albums:
Hieronder staan wat fotoalbums van Vera op de piano. Click on the photo for an impression.
Vera speelt ook samen in Duo Spirito Crea.
---