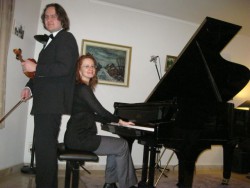 Business "Wijntjens – Violin and Piano" there since August 2006, and consists of a violinist and pianist Dennis Vyayntensa Vera Melnichenko.
The musical activity of the company consists of concerts, teaching piano, violin and viola.
In a duet or solo musicians provide background music to your private or business celebrations, Conferences, exhibitions, as well as the church Masses, as the wedding, and funeral. The wide range of activities also includes the duo's music choirs and other ensembles, Projects participating in orchestral and chamber ensembles in the game. At the disposal of the musicians is a portable digital piano Kawai ES6, therefore, the presence in a particular room of the optional instrument.
Private lessons musicians spend at home, Maastricht. Depending on your place of residence and occupancy schedules musicians to lessons in your home. Piano lessons are conducted Vera Melnichenko. In addition to the Russian piano lessons are also possible in Dutch and English. Lessons for violin and viola conducted by Dennis Vyayntensom. Education on these instruments is only in Dutch, English and German,as well as online via webcam regardless of address student. We will be happy to answer your questions by phone +31-(0)618360456, as well as through the contact form.
You can see a machine translation of our website in english language.
In general it is understandable, but there can be some strange words and sentences.
You can now try to continue in english or in dutch.