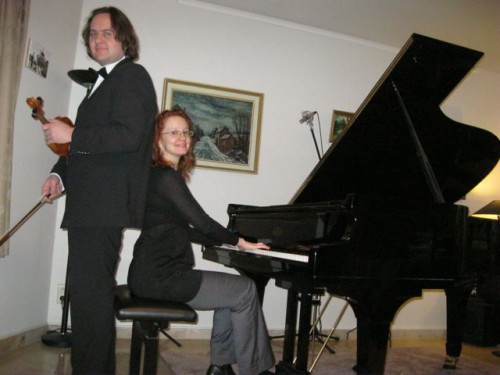 Violin and Piano
Duo Spirito Crea Maastricht, provides performances and occasional music violin and piano in Netherlands, Belgium and Germany, and in a radius of 100 km around Maastricht.
Duo Spirito Crea, consisting of violinist Dennis Wijntjens and pianist Vera Melnichenko, musical partners for a long time, making it perfect attuned.
Despite our classical training, we feel at home in Jazz, Rock, Pop en Show repertoire.
We have a digital piano we can take with us.
A digital piano or stage piano is sonically similar to a Grand Piano and is not a keyboard.
We can amplify the digital piano and the acoustic violin a bit ..
It is of course also possible to play on a present piano, Grand Piano or in church on a church organ ,, provided that they are in good condition and tuned properly.
For small rooms inside we can (if necessary) use a small amplifier.
For bigger rooms and for outside we make use of a sound system (PA), consisting of two speakers on a stand and a bass speaker. We need a minimum setup time , 90 minutes.
You can book us for the following occasions:
Chamber Music Concerts, Receptions and mood music, (wedding)miss and Ceremonies, Accompaniments and help out, Studio work and sound recordings, Theme performances.
Program proposals violin and piano can be booked for:
1 hour, 2 hour or 3 hour, unless otherwise stated.
See also our example playlists with possible pieces.
You can also reference tones listen to.
Some program proposals Violin and Piano are supplemented or alternated with a Violin solo live with backing-tracks.
This is a live violin solo with a accompaniment on orchestra band (combo, band, orchestra).
We also act as Musicato, this is a dazzling show with classical and contemporary live violin and piano music supported with video and images on a large projection screen.
Do you want to be informed about what's going on with us, check out our Facebook-page.
Read the experiences of visitors to our performances below.