from € 18
During the current coronacrisis Thanks to our experience with online music lessons, we can simply use video calling Get on with our lessons. Also students who normally followed regular lessons, have discovered it before works.
Playing online together also works and we now also use it during classes.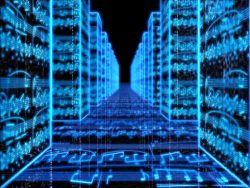 1. Remote interplay without delay is CAN be done
2. Conditions for remote interplay
3. About Jamulus

>Remote help
Submenu
---
1. Remote interplay without delay is CAN be done
Remote interaction without delay via a live sound connection via internet.
Just from behind your computer? It is now working fine !
There is special software for it, like Jamulus (see below).
There are higher standards asked the link.
Although Skype, FaceTime and Teams are excellent programs to follow online music lessons via video calling, they are NOT suitable for remote interaction. These programs are very user-friendly, so we continue to use it.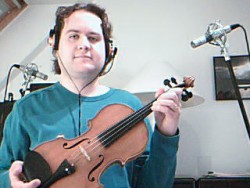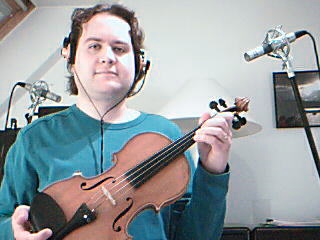 During the Corona crisis our students were able to continue with our violin and piano lessons, thanks to our experience with online music lessons live via video calling !
At the same time, we got a lot of questions from band members who wanted to play together via the internet.
Of course it takes a lot of time to find out how something like this works and many musicians would rather make music than research technical things.
Fortunately, our musician and PC technician Dennis can teach you how to do that and everything (,) set for you. More info: Remote help.
Do you want online music lessons follow and play together with you teacher, but that is absolutely not possible with Skype, FaceTime of Teams ?
Do you want rehearse with your band members about the internet, but you don't know how, too complicated?
Maybe you are looking for someone to share it with direct along play together of te improvise / boy?
We can to learn how to do it and everything (from on remotely) for you Set up.
See our Remote help.
Maybe you want to go together duets play with one professional violist or viola player, or are you looking for one professional pianobegeleider (co-tutoring)?
We offer the unique opportunity to get together musicianship with ourprofessional musicians and at the same time hereinthe to get.
The lessons together can also live online ,, more info see Ensemble lessons.
We have thoroughly tested a software program that is made especially for this purpose: Jamulus.
This program works with a server that coordinates all sound flows so that everyone without delay is audible.
At Jamulus you can also set up your own server and there are servers spread all over the world, so you will always find a suitable one in your area. See below.
---
2. Conditions for remote interplay:
There are some conditions you have to comply with this in advance to work with a software program like Jamulus:
All parties must agree on one (recent) computer with a fast wired internet connection (LAN/ethernet) directly connected to the modem / router.

It doesn't work well over WiFi, then you get a lot of hitches in the sound, poor sound quality and DOES delays. If a cable connection is NOT possible for you, it is better NOT to start playing together remotely. To play for someone, can you do better standard use video conferencing program (without possibility to play together).

Furthermore, the use of headphones is necessary at Jamulus.
You have to go over the necessary knowledge how to set up this software.
I can help you with this, see: Remote help
More information see Supplies (Live interaction online).
---
3. About Jamulus
The Jamulus software is open-source and does not take up much space. Jamulus has no video connection, it is only for sound, but you can do this. combine with video from another video conferencing program that you disable the microphone function of.

Jamulus consists of two parts, a client and a server. In principle, the client is enough for you, you can then choose a server in the area and play with other users.

Do you want to set up your own server or a private use it only for acquaintances accessible, then you can also start the server component on your computer. You must then be certain gates on your router to open, so that the server software from the internet accessible is and give your fellow players your public IP address and port number.
I have Jamulus a.o. tried out between Maastricht-Amsterdam and even at this distance it still worked perfectly.
This program works the easiest on a MacOS system, because there is no need for a separate audio driver.
With Windows you need an ASIO audio driver that normally only comes with professional sound cards, but you can also use the program ASIO4ALL, more info see the website of Jamulus.
Do you have help needed when installing, setting up and / or testing Jamulus, make a appointment with Dennis, our pc technician, violinist and violin teacher:
Remote help

More info: Jamulus
Support: Jamulus
See Supplies (Live interaction online).
---