How to motivate yourself or your child to practice daily with pleasure?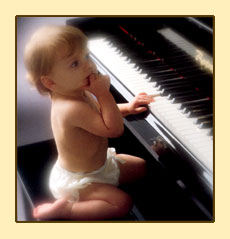 practice Tips
Here are some practice tips with notes (if you click on it):
To avoid
Here are a few things you should avoid and why:
---
practice Tips
Exercise you can learn:
As with learning cycling, swimming, to calculate, reading and writingregular repetition (exercise) when learning a musical instrument is necessary.
The practice itself you can learn, how can you make studying effectively and at the same time as fun as possible?
That look at the tips below.
Top | Next
---
Play varied and regularly:
Not every day play the pieces in the same order and not always start at the beginning. But.. play small pieces, do not continue playing, but mainly play what is not yet going well and what is going well, you do not have to practice as much.
So regularly repeat difficult pieces, We also encourage start at the back and work forward or choose randomly from a difficult place. Do not practice too long on a single piece, for example. 3 minutes per piece and then alternate.
More info:
Practicing with a kitchen timer or stopwatch / alarm clock
---
If you have little time: Practice concise!
Try if you have little time anywhere 10 minutes in between.
Just make music for relaxation works very well.
You'd better 10 minute good practice or not practice.
With good practice, I mean efficient practice:
As you 10 minutes have to practice not play anything by, but
try useful to use time.
Repeat just the one spot that just will not happen for example.
No problem if you are tired and you can not therefore.
Take it easy, you're at least doing, that is the most important.
Probably therefore succeed better tomorrow.
You have a lot more to repeat a difficult place than anything 1 time to play.
More info:
Regular exercise is to practice every day.
---
I'm so busy with other things, practice shooting as often in.
If a child is already busy drawing lessons, sport, dance and also wants to play with peers, his parents soon reluctant still to do something.
The same goes for adults. The student or his parents must then understand the positive long-term effect that music practice has on social and emotional development. It is not just a hobby, but like sport good for body and mind. Keep that in mind in the scheme and there is probably somewhere 10 minutes per day on to practice a musical instrument!
---
Regular exercise is to practice every day
Exercise daily at a set time, if only 10 minutes if you have less time ... Short exercise is always better than nothing, you get at least not out of shape. Regularity is important ! Did you know that you keep practicing with your sleep? That may explain why something is successful and suddenly the day before yet..
Top | Next
---
The practice spread over several times on the day
This is better for concentration and so it is easier to maintain.
Practice or short but sweet!
More info:
Practicing with a kitchen timer or stopwatch / alarm clock
Top | Next
---
Practicing with a kitchen timer or stopwatch / alarm clock:
Set it to the minimum training time, continue longer always allowed.
Gives a good feeling when you have finished your task.
A stopwatch can stop in between, useful if you want to spread the practice.
An alarm clock or stopwatch built into most phones or tablets.
Top | Next
---
Keep an exercise schedule at
Make a chart with the days of the week and put one up every 10-15 minutes you've played.
So you can keep a little of how much you practice every week.
Hang it in the music corner and discuss it if necessary with your teacher and parents.
Top | Next
---
You while exercising your teacher or teacher:
Your teacher you see once a week. You're so most of the time your own teacher or teacher.
Try to continue the work of your teacher during practice. What to look for?
What can be done better? Why should the piece again? What is not well? What is already well?
Read the notes from your teacher to you as thorough begins.
Attentively so exercise. Do not be too hard on yourself but not too easy too.
In young children, parents should the child and the teacher this can help a little with.
Parents may eg. attend the class so they can help the child on other days better.
Top | Next
---
I exercise enough and I'll go ahead enough ?
How do I know if I (or my child) enough exercise and if I'm sufficiently ahead?
If you have a manual you will get as homework shorter pieces, for example. three pieces or one page per week.
If homework is crossed each lesson (is done) and you still get to new homework then it is excellent. You occasionally have to repeat a piece of normal.
But if you regularly get the same homework and / or notice that your teacher ever give up less homework, then it's not going well. Then you should better go practice.
watch out: better not have to be necessarily longer, it may also be more regular or more efficient:
for example. play every day or just practice what is not going well yet, So by playing less.
Moreover, it is normal that as you get more and more difficult it is and so you will have to practice more.
Most importantly,: the student does play regularly (every day) ?
As a teacher I see the student only once a week and I have little control over the exercise of the pupil.
Going less well because the student finds it difficult or perhaps because the student has not practiced good?
I ask, therefore, whether the parents of young children can help a little bit with me, by example. to encourage, a fixed time to choose for practicing, exercising together, in short, to apply the tips on this page.
If you know how you have to practice and you do so regularly, you automatically become better.
For advanced to overlook the sometimes difficult when you've got a longer piece (mostly for the students' concert).
It is normal that you're more concerned with the piece as we go more in detail.
Try to avoid it by playing, because then the piece you get bored while you lose a lot of time, so: especially exercise that do not go well.
You while exercising your teacher or teacher, try to put the instructions of your teacher.
If you have the idea that it does not go ahead, discuss it with your teacher.
---
Study a new piece slowly and carefully:
A new piece to learn you do with the music and without (to listen to the) play-along accompaniment.
Deciphering the music is a puzzle that you get for free.
Do this carefully and quietly, The mistakes you make here and rehearse you must unlearn later and lasts longer.
Point your fingers in first road, Also for the purity (for violin), then they find them later "themselves" back when it comes faster.
Some students can replay a lot quite quickly but are very bad at reading the magazine.
That's because they do not take the time to decipher the notation.
This is absolutely necessary, like learning to read at school, there is not always an example of a piece to listen to.
By deciphering the note for note you play it yourself slowly and do not have to look back not so intensively on your platter.
If you keep practicing reading notes, you are also more convenient in. That's like learning to read at school.
More info:
adjust the speed of the accompaniment music
CD time / adjust mp3
---
adjust the speed of the accompaniment music: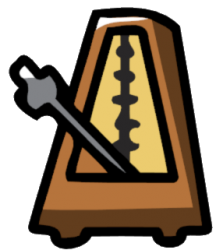 Nowadays there is in most textbooks a Companion CD. Over time, the tempo of the accompaniments (tracks) ever higher, making it sometimes difficult to play together.
The exercise pace is less than the output tempo of the accompaniment, the end result.
Usually the students understand that they must exercise slowly at first. But there are also impatient students who want to play everything quickly (immediately with the play-along accompaniment), so they get frustrated or practice wrong things (mistakes) ..
Compare it to rehearse dance moves, also not at full speed with the music at the first time.
If you were to adjust the tempo of the play-along accompaniment then you had to practice a lot faster with guidance and is accelerating in small steps, making it much easier. Also, it is much more fun faster to practice with the guidance there.
On our page CD time / adjust mp3 We explain step by step how you can adjust the tempo of the accompaniment. Our students find an online music player with speed and guidance on our music page Accompaniment CD.
---
Tips for the listener / parents:
A musician must practice to get better. As a teacher, we encourage you to play exactly that which is not yet going well. If it is good, you hear a lot of repetition of the same small piece of that is not going well yet. Maybe not always fun for the listener may think: "Play now once by".
It is also difficult for the musician himself to play what is not yet going well and much easier to just keep playing. Encourage the musician or let him commit! Show genuine interest, you do not have to have any knowledge of. Give compliments for what is going well, occasional constructive criticism and use beyond the tips on this page. Also, you might agree with the musician that at the end of practice time a kind of play time comes where the musician (a part of) the play by play.
Top | Next
---
Stop a musician not in a corner
Stop a musician not go away in a corner of the house. That does not really motivating.
Make sure there is enough light, the temperature is comfortable and not trip. Show genuine interest, you do not have to have any knowledge of.
Top | Next
---
By repeating favorite pieces:
It's always good to have a playlist on hand with pieces you play regularly and well go, for example. as a reward after exercise. And then you always have something to play for and ask someone there to.
Repeating is also good for self-confidence, because otherwise you're only working on new things difficult.
But do also repeating critical. Although you've already played the piece, it may be that you just need to dwell on difficult pieces that do not go well.
Otherwise repeat actually like to continue, then you are the mistakes practicing.
Continue to next iteration also stabbing enough practice time in the new documents, because there you learn it play your instrument.
Top | Next
---
By favorite pieces on your instrument to try to play:
Also try a different music from, for example. pop, jazz, folk.
Find even own the music on Internet, there can be found a lot of free or for a small fee.
Take a self-selected piece to class, then we look at it together.
Top | Next
---
Listen to a preview of the piece you are playing:
Find agree on YouTube; try to play with, Try to imitate what you like best. You can also listen to multiple versions, which one you like best?
Top | Next
---
Just play like you're already famous:
Listen / look at a famous or your favorite violinist bv. via YouTube.
Try following your piece to play like you're this famous violinist. How do you play then? Do you notice how much fun you give it, is it really Making Music (without inhibitions). Take a recording yourself and try some "moves" from.
Top | Next
---
You buy violin case ready to go to open a violin or standard: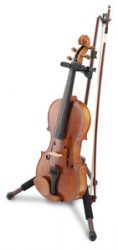 Put your violin again in the starting blocks: suitcase open, shoulder support on the violin and tuned.
You can also buy a special violin standard where you can hang your violin and bow in.
So grab him somewhere faster between.
Pianists recognize this problem probably not: which only need to open the lid of the piano and sit.
Top | Next
---
Educate yourself to tune your violin, handy for the holidays:
Have you no pleasure in playing an untuned violin because it sounds lame?
This problem usually occurs during the holiday.
Nowadays you fine yourself your violin vote using a voting device.
This can also put the app on your phone.
On our page Learn to tune your violin You can read how to tune your violin itself.
We can possibly. practicing together in class in practice.
More info:
Learn to tune your violin
---
Once to a gig / concert / opera gaan:
for example. a symphony orchestra, Opera Liege, the Vrijthof Theatre, Theater Langraaf, Parkstad Limburg Theaters, The Concertgebouw in Amsterdam, Special kinderconcerten, André Rieu. That makes a lot more impressive than listening to a cd. Music is interaction with the public.
Top | Next
---
Consider a music video on TV or computer or listening to classical radio or CD recordings:
Delicious bv. if you're in the car or during a break.
i.e.. YouTube, Brava, NPO Radio 4 from classical, Clear and Concertzender.
Top | Next
---
Once come to listen to our students' concert:
Then you see how other students play and what ever advance. That's not all goes perfectly with other students. Do you hear pieces that are familiar to you because you've played or hear pieces that you also will play or would like to play after the concert.
Top | Next
---
Ask yourself the goal to play a piece by a certain date:
Joining our students' concert or arrange a performance for yourself, or make an audio or a video. If it's good enough (!) You can also put on YouTube.
Top | Next
---
Take a shot of yourself:
Take a recording of yourself or let yourself recording.
This may be only the sound but also video.
So you can look at yourself and listen without your busy playing itself.
A warning, this can be confronting and usually is somewhat disappointing, even for advanced.
Comes partly through the sound quality of the recording (especially at violin), but you should listen to me through.
The point is that you can hear or see improvement in this way that you normally do not have an eye.
Record yourself do you really simple with your phone, in iOS Apps with the Camera (video) of Dictafoon (audio).
Do you want it more professional approaches, then make a recording with the computer.
Audacity (Windows/Mac)
Audacity® is free, open source, cross-platform audio software for multi-track recording and editing.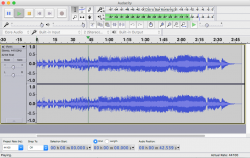 ---
What you should absolutely avoid:
Your child to for insufficiently prepared for school play:
for example. difficult to choose pieces or pieces that are not finished.
Also pieces that you've played a long time ago you have to repeat the same again.
For games without guidance (cd) there is also such a thing, which makes it rather bare,
then you need to be playing well! Talk this out with your teacher, then we choose with the student suitable pieces from.
This can be a huge disappointment, because children are severely audience that gives their unvarnished opinion…
Top | Next
---
Your child from his / her sense of play to allow family or friends / girlfriends.
Maybe your child is at that moment not adequately prepared or out of shape.
Top | Next
---
Tell your child that it is very false or totally lame sounds.
---
Just before going to practice the lesson
or if you once every two weeks of classes: only in the last week to begin practicing..
Top | Next
---
Skip a few days of practice, and that in one day try to catch.
---
Not exercise the whole holiday:
but then expect the next will be just as good as going for the holiday..
And because it is not so: then do not feel like practicing..
Top