3. The CD transfer them to MP3 audio files:
Do you want to play music on a computer, phone or tablet, then you have to put the music first from CD to your computer (rib) passed audio as (.MP3 / .WAV / .OGG – format).
This so-called ripping done with a music player on your computer, like iTunes or Windows Media Player.
In general, it works as follows: open the music player and insert the CD into the CD drive, after which the player will ask to import the CD. The tracks are then copied to your music library.
Are you our student, then you can use the audio tracks from the Companion CD below for immediate download:
---
For our students: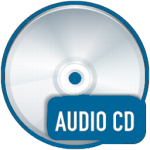 Here you will find downloadable MP3 audio files from the Companion CDs online music player with adjustable playback speed More..
Students can
audio-tracks
of the Companion CDs of textbooks ready-to-eat
download
on the secure page
Accompaniment CDs
.
Our students can password for the page Accompaniment CDs found in the conditions or requests by the contactform.
Then you can import the tracks in your music player on your computer or to a folder on your hard disk, usb-stick, on your phone, OneDrive, depending on how you are going to play. More on this, see below.
---
It is recommended to immediately create a new playlist of the imported tracks per CD, so you can find it easily in your player or app, otherwise you end up tracks on one big heap together.
Depending on how you want it Play you need the following files yet transferring (from your music library or folder) to your phone, iPod or tablet. So you can with the right program or application on a computer, phone, iPod or tablet while playing fine adjust the playback tempo. To hear the good will that with your music system / need to connect headphones.
Next steps:
---