4. Adjust Playback Speed with software on a computer:
If you want to play the music use with your music library on your computer or from the CD, you can software on your computer.
---
Windows Media Player (Windows):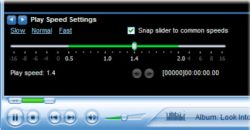 With Windows Media Player you can easily adjust the playback speed.
Unfortunately, this option is quite hidden in the menu.
Open Windows Media Player.
In Windows 10 do you think "Windows Media Player" via search (magnifying glass).
Pin it down if necessary to your taskbar so you can find it easily.
Start playing a track
Windows Media Player opens now standard in the music.
Switch to the "Now Playing" ("Now Playing") modus: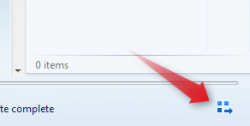 Bottom right is an icon (see the picture above).
Click on it so that the Now Playing window (Now Playing) appears.
Right click on an empty spot in the Now Playing (Now Playing) window.
Choose from the "Settings menu / Play Speed ​​Settings "
("Enhancements / Play Speed Settings")
Move the slider (1.0 = normal) or click on "Slow", "Normal", or "Fast"
("Slow", "Normal", "Fast")
---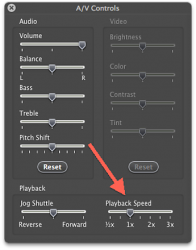 For MacOS we recommend Quicktime Player 7 which you can install alongside the normal Quicktime (10) and iTunes.
(In the new QuickTime Player unfortunately this feature is not supported anymore)
Please install Quicktime Player 7 via the above link.
If you use iTunes (Mac) for playing the accompaniment music:
Go in iTunes to the desired track
Right-click on the appropriate track
Choose: Show in Finder
Right-click on the audio file
Choose: Open with / Quicktime Player 7
The file has been opened in Quicktime Player 7, follow the steps below
Open the file in Quicktime Player 7 if you have not already done so:
Go to Window / Show A / V Controls
Below Playback Speed: Move the slider
---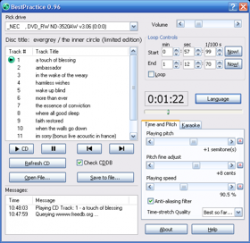 An oldies on Windows 10 unfortunately only works via compatibility mode (see below).
In Windows 7 and previously the program works without modifications.
I added him here because he can directly adjust the tempo from the CD!
BestPractice: An open-source audio time-stretching tool
BestPractice is a musician's practice tool, to slow down or speed up music, either from an MP3 file or directly from a CD. Ordinarily the sound is distorted when slowed down our speed up – you get the effect like when playing a 33 rpm record on 45 rpm speed (remember the Chipmunks?). BestPractice tries to correct this, so you can slow down and speed up music, while keeping the original pitch. It is also possible to change the pitch of the music without affecting its tempo. Play along with for instance Eb tuned guitars without retuning your own, or slow down that high-speed guitar solo on a CD that you like to learn.
In Windows 10 only in compatibility mode as follows:
Right-click on the program icon or file in Windows Explorer.
Choose Properties
Select Compatibility tab
Select "Compatibiliteitsmodus: Windows Vista Service Pack 2".
---