6. Adjust Playback Speed ​​permanently with audio editing software:
Audacity (Windows/Mac)
Audacity® is free, open source, cross-platform audio software for multi-track recording and editing.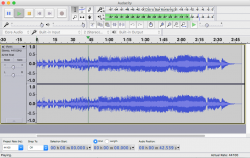 – Open the accompaniment music in Audacity using File / Open.
– Go to Effects / Tempo Change.
– Fill in the percentage change.
A preview button is also built in Tempo Change (Example), so you can hear a fragment
at the new tempo without being final.
Fortunately, there is also a Cancel function built into Audacity (Edit – Undo),
so if it is still not the right tempo you can immediately cancel the tempo change and
try a higher or lower percentage.
If the tempo is ok you can save the file.
If you want to play from CD then you need to burn that file on a CD.
---