4. A tuning device:
The tuning of a violin goeseasiest with help from atuning device.
With a tuning deviceeverybody can learn to tune.
A tuner shows exactlywhich pitch is played and whether the pitch of this tone istoo low, right ortoo high tuned.
A tuning device is for sale at theviolinmaker or at amusic shop.
Ask for achromatic tuner forstring instruments and say it is for aviolin / viola ?.
A tuner forguitar often does not work well !
Below brand is recommended by us:
Intelli Digital Chromatic Tuner: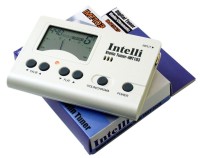 Intelli Digital Violin/Chromatic TunerIMT-103
Intelli Digital Chromatic TunerIMT-102
Intelli Digital Metro TunerIMT-202 (Tuner + Metronome)
---
A tuning device for your mobile phone or iPad:
The benefit of a tuner is that it is easy to take with you all the time.
Nowadays, you can also find a lot of goodapplications (apps) download for youmobile phone, for example, for the AppleiPhone oriPad .. These work just asas well like atuning device and you take a cell phone always with you anyway.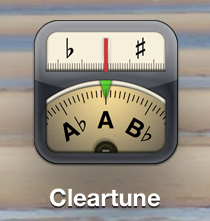 the application (app) ClearTune for iPhone, iPad or Android is recommended by us(costs a few euros).
This works great.
---
A tuning device for your PC:
You can also install software on your computer, but then you obviously need a microphone.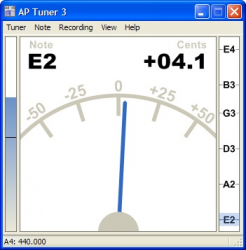 The software programAP Tuner shows the pitch on the screen, behind the number of the octave. This is useful and we can use this to determine whether the violinis roughly tuned on the correct tone or that we need to tunehigher orlower in pitch. So first make sure that the stringis roughly tuned to thetuning the right pitch before you start with thefine tuning.
We will do this again according to theprinciple of a scale.
---